Durham Cathedral secures £3.9m Heritage Lottery grant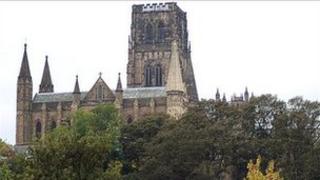 Durham Cathedral has been awarded £3.9m from the Heritage Lottery Fund to carry out essential repairs and create new exhibition space.
The money will enable the cathedral to display more of its own collections and improve buildings around the medieval cloister.
Work is due to start early next year and should be completed by 2015.
The cathedral is one of Britain's best loved buildings and is visited by more than 600,000 people every year.
The planned work is part of an ongoing £10m project to open more of the cathedral to the public.
'International importance'
The Very Reverend Michael Sadgrove, Dean of Durham said it was "a huge boost".
"This will transform how we welcome and offer hospitality to visitors as well as contribute to the visitor economy of Durham and the North East."
Ivor Crowther, head of the Heritage Lottery Fund in the North East, added: "Durham Cathedral is a local heritage treasure of national and international importance."
Part of the funding would go on "opening up the cathedral's treasured collections", he said.
Among the areas that could be opened up is the 14th Century Monk's Dormitory - a long oak-beamed room, which was once divided into cubicles for the cathedral's Benedictine monks.
The area will be transformed into an exhibition area and working library.