The Railway Man: Edinburgh screening for Colin Firth film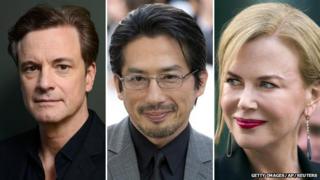 A film about a prisoner of war's battle with hatred and forgiveness, starring Colin Firth and Nicole Kidman, has had its first UK screening.
Eric Lomax, who died in Berwick last year aged 93, was beaten, starved and tortured as a prisoner of the Japanese on the Thailand-Burma railway.
The Railway Man explores the post-war friendship between Mr Lomax and his captor and interpreter Takashi Nagase.
The UK premiere was staged in Edinburgh, where Mr Lomax grew up.
The Railway Man is based on Mr Lomax's book of the same name which describes his experience before, during and after World War Two.
Mr Lomax - then Lt Lomax - was a signals officer who was captured in Singapore and held at the island's Changi jail before being taken to the Thai town of Kanchanaburi, where he worked on the railway link to Burma.
His arms were broken, his ribs were cracked and he was waterboarded - years before the term was coined - by his Japanese captors, and suffered from post-traumatic stress for decades afterwards.
Many years after the war had ended and he had returned home, Mr Lomax's wife Patti contacted Mr Nagase.
Both men returned to Kanchanaburi to meet in 1993 and eventually became friends.
Firth, who plays Mr Lomax, said: "That relationship ended up meaning a great deal to him."
The actor was able to meet Mr Lomax before his death in 2012 at the age of 93.
Firth told the BBC: "I knew that the moment I met him it would become personal."
He told the Today programme: "It's not the same sort of story of derring-do of World War Two that is conventionalised in cinema but as a personal story I don't know how to estimate the courage he displayed."
Referring to the torture scenes in the film, Firth said that for anyone who has read Mr Lomax's book the graphic violence "doesn't go far enough".
The actor said the 45-second sequences in the movie were based on torture sessions that actually lasted 45 minutes.
Speaking about Mr Lomax's efforts to come to terms with the torture he experienced, Firth said: "This was a process that was incredibly hard-earned for many, many years at great cost to Patti Lomax, who I think is actually in some ways as much as anybody the true hero of the story."
Mrs Lomax, who is played by Nicole Kidman, said the film is true to life and a moving tribute to her husband.
She said: "The film is a story that has a very happy ending and, apart from the stress, I think it points out that no matter how dire things are in life you can move forward and live a happy life.
"It's taken about 15 years but one of the producers said to me if it had been made any sooner then Colin Firth would not have been able to play Eric because he would have been far too young."
She added: "Colin Firth gives me a real jolt because he looks and sounds just like my husband did."
Recalling a visit with her husband to a cemetery in Thailand, Mrs Lomax said: "I wondered if we were being disloyal to these young men by being there and Eric just paused for a moment and said 'Patti, sometimes the hating has to stop'.
"It really etched itself on my memory, and it's also etched on his headstone."