Raoul Moat victim Chris Brown inquest: Killing predicted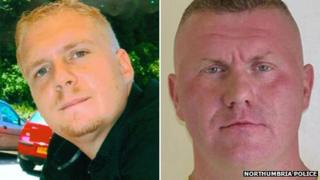 An inquest into the death of a man shot dead by gunman Raoul Moat has heard a prison inmate predicted he would kill.
Chris Brown, 29, was shot and killed in Birtley, Gateshead in 2010, two days after Moat was released from jail.
Moat also shot and injured his former partner Sam Stobbart, who was then Mr Brown's girlfriend.
Newcastle Crown Court heard a prisoner from HMP Durham said at the time of Moat's release: "He's a lunatic and will end up killing someone."
The prisoner, who cannot be named for legal reasons and was referred to only as N1, said Moat became upset after hearing Ms Stobbart had left him.
He told the court Moat was unbalanced and would get angry when talking about his former girlfriend and the police.
"He indicated that he was going to take some sort of revenge against her and her partner," he said.
'Burying your child'
The court heard that Moat had boasted about having access to a shotgun and explosives.
Chris Brown had moved from Slough, Berkshire, to the North East, a short time before he was killed.
Earlier a statement from his mother, Sally Brown, was read to the court in which she said he was "very loyal, happy-go-lucky".
"I cannot think of anything worse than burying your own child," she said.
After killing Mr Brown, Moat went on to shoot and blind PC David Rathband as he sat in his patrol car, and then went on the run.
A week later Moat turned the gun on himself following a stand-off with police in Rothbury, Northumberland.
Coroner Terence Carney explained the law did not allow him to return a verdict which would go against the findings of a related criminal case.
The inquest is expected to last two weeks.