Landslip-hit Rothbury road: 'Life goes on' for community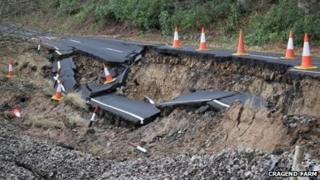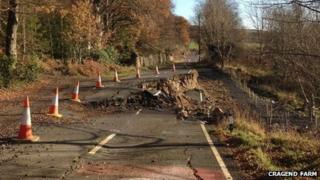 One year since a landslip caused the main route into Rothbury to collapse, how are residents coping?
"Life goes on, we just get on with it. We're tough in Rothbury."
Butcher Morris Adamson reflects on the 12 months since a landslip on Boxing Day caused the main route into the Northumberland town to collapse.
The B6344 at Rothbury was closed on 26 December 2012 after it cracked in four places and slid towards the river.
Deemed "highly unstable", it has been closed since and will remain shut until at least August 2015.
Permanent barriers shut off the road between Pauperhaugh and Rothbury and a diversion through Longframlington adds up to 10 minutes to journeys.
Residents and businesses said it has made life tough, but they have pulled together and emphasise they are very much open for business.
Morris Adamson, owner of Rothbury Family Butchers, said: "The past year has been a bit different... it is a burden but we haven't seen a significant decrease in business.
"We rely on locals and tourism. Some people that come into the shop say they thought we were closed because they do not know about the other routes into the town - there is lots of different routes, it is not just the one road."
'Own little hub'
For months the landslide continued to move and gradually destroyed the road.
Northumberland County Council has been monitoring the ground water and stability of the landslip at Cragend. Although the ground settled in September more heavy rain is likely to make it worse.
Residents say they are having to pull together to cope.
Mr Adamson said: "We're trying hard to keep business going but it needs to be publicised more, the diversions are very poor.
"We're trying to seek a positive and stress to people that the extra 10 minutes is a fabulous and beautiful journey."
The route adds four miles (6.5km) to the usual journey and takes drivers over the moors.
Northumberland councillor Ian Swithenbank said: "Traditionally the majority of people would have used the closed road, in the bad weather it's a road you would normally avoid... it is quite an exposed road."
With the arrival of the winter months, many are worried the journey over open land will put people off.
Jackie Sewell, owner of Tomlinson's Cafe in Rothbury, said: "There is a fear and apprehension of coming over the moor, it is beautiful, but people are worried about getting stuck in such open land, especially in the winter months."
Northumberland County Council said the road could stay closed until the latter part of 2015 and ecological and hydrological constrains may mean the date is extended.
Repairs are estimated to cost about £7m, with about £6m coming from a government grant and the rest from rearranging the council's capital programme.
"From a personal perspective I think the village has been impacted.
"The village seems a lot quieter which is great for the locals and residents but certainly not for businesses.
"People do still come but the perception is now that it's a long way," Ms Sewell added.
From January the council hopes to start work on designing the rebuild of the road, but wet weather during the winter could "worsen" conditions.
Work is also complicated by the fact the area is designated as a Site of Special Scientific Interest. This could mean an environmental impact study may need to be carried which would delay the start of repairs, the council added.
Ms Sewell said: "I think there will be casualties in businesses over the next year. The longer it goes on the more difficult it is going to get.
"In a positive light, local people are shopping more locally and using our butchers and bakers. It is becoming its own little hub and more of a community."
Mr Swithenbank said: "We have just got to get this road fixed and reopened.
"If we can get through the winter and into the spring with no further heavy rain, we should be able to start moving forward."
He added: "Challenges often bring out the best in people. People have to do what they have to to do."
Mr Adamson said: "The community spirit is amazing, people just knuckle down and get on with it. It's our livelihood."