Holy Island blaze: Fire crews airlifted to site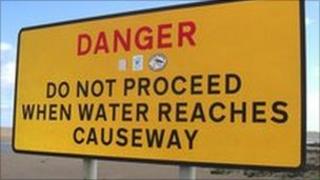 Firefighters were airlifted to a blaze on an island off the Northumberland coast when a causeway linking it to the mainland was under water.
The helicopter from RAF Boulmer took the crew to Holy Island after the fire was reported in a cottage on Saturday.
The helicopter transferred nine firefighters and a member of the ambulance service to the blaze in a three-bedroom property.
No-one was badly hurt, but one man was treated for the effects of smoke.
Trapped dog
A coastguard spokesman said islanders using fire extinguishers had managed to prevent the fire spreading to neighbouring properties.
A Coastguard spokesman said one resident had entered the property to rescue a trapped dog.
Watch manager Graham Dawson said: "This was a multi-agency response to an isolated location as the only connection to the mainland is a causeway, which was under water this evening.
"HM Coastguard's involvement was to co-ordinate the transfer of the right personnel over to the island by helicopter and help with evacuation of residents close to the scene.
"Our coastguard rescue teams both on the island and on the mainland secured the helicopter landing sites."
The Holy Island causeway is under water twice every 24 hours.