Film-maker Lee Halpin 'could have died at any time'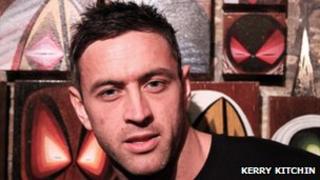 A film-maker who was sleeping rough for a project on homelessness died from sudden adult death syndrome, an inquest has been told.
The body of Lee Halpin, 26, was found in a derelict house in Westgate Road, Newcastle in April.
He had planned to sleep rough for a week, Newcastle Civic Centre heard.
Coroner Karen Dilks said he had died of natural causes and that experts had advised her his death "could have occurred at any time or place".
Mr Halpin had been making a film in the hope of securing a Channel 4 investigative journalism internship.
The inquest heard he spent one night sleeping near a city centre roundabout and was then invited by a homeless man, Daniel McEwan, to spend the next night in the derelict property.
The next morning, Mr McEwan found he was cold and unresponsive and raised the alarm.
'Diagnosis of exclusion'
Mr Halpin had been to a city centre pub the night before and drank alcohol, but was not drunk and consumed far less than a lethal amount, the hearing was told.
The only drugs found in his system were anti-depressants he had been prescribed following the break-up of a relationship.
Forensic pathologist Dr Gemma Kemp said he had not died from hypothermia and she had ruled out any third party involvement in his death.
She said Mr Halpin died from sudden adult death syndrome, where his heart stopped despite not having any obvious disease.
"This is a diagnosis of exclusion. You have to rule out everything else," she said.
Ms Dilks said Dr Mary Sheppard, a national heart expert from the Royal Brompton Hospital, had also looked at the case and agreed with Dr Kemp's findings.
She said Dr Shepherd advised that "this could have occurred at any time or place".
"The circumstances in which Lee was living played no part, in her opinion."