Hydro-electricity restoration work starts at Cragside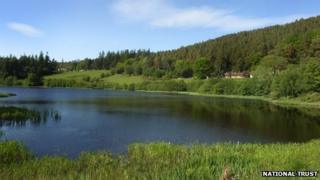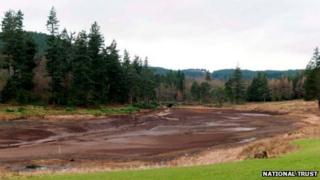 Work to restore water power to a historic house in Northumberland is under way.
Cragside was built in 1863 by engineer Lord William Armstrong and was known as the "palace of the modern magician".
Thought to be the first in the world to be lit by hydro-electricity, 150 years later a modern hydro-electric system is being installed.
Work has now begun to drop water levels in Tumbleton lake to allow the installation of the Archimedean screw.
Cragside had running water, a lift and central heating thanks to Lord Armstrong.
Used as the family home for 30 years, it used the lakes on the estate to generate electricity through a turbine, an idea which the National Trust, who now own the property, is reinstating.
National Trust manager, Sarah Pemberton, said the project would "re-tell the story at Cragside being the first house in the world to be lit by hydro-electricity and achieve part of the vision Lord Armstrong originally had for the estate".
The screw will be installed at the southern end of Tumbleton lake in the spring and will produce enough energy to light the house.
It will be installed at an angle that will allow water to pass between the lake and the burn below.
As water passes through the spiral blades it will cause the screw to turn, harnessing the energy of falling water which is then converted into electricity using a generator.
Work is expected to be completed in 2014.