Newt protection costs Durham Police about £34,000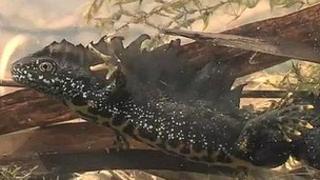 Durham Police has spent nearly £34,000 on dealing with a colony of rare amphibians which was found on the site of its new headquarters.
Great-crested newts are protected by law so special measures had to be put in place before the £14m project could begin at Aykley Heads.
It had to spend the money to create a special habitat nearby, and erect a newt-proof fence around it.
Work is under way on the new building, which is due to open next summer.
Great-crested newts became a European Protected Species following a dramatic decline in their population across Europe.
It is an offence to capture, kill or disturb them, as well as damage or destroy their breeding sites or resting places without an appropriate licence.
Michelle March, the force's head of estates, said: "The mitigation measures we were required to put in place cost just under £34,000, payable to Kier as our contractor.
"Any delays in a major project such as this will have knock-on effects, as they hold up the move from one building to another and the estimated savings on running costs."
The new HQ, which replaces a building dating back to 1969, is aimed at generating substantial annual savings in running costs.
There will also be income from selling off the old site for housing.