Durham City's Wharton Park to get £2.45m revamp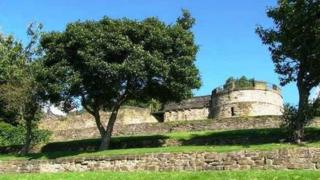 An historic park in Durham City is to be restored to its former glory thanks to a £2.45m grant from the Heritage Lottery Fund.
Wharton Park was opened to the public in 1858 and was the site of the first Durham Miners' Gala in 1871.
The restoration will see a new heritage centre, cafe and play areas built to improve facilities for visitors.
A Durham County Council spokesman said the park needed "significant investment" to attract more people.
The project will also improve the park's amphitheatre, footpaths, signs and main entrances.
Ivor Crowther, head of the Heritage Lottery Fund for the North East, said it will "unlock the potential" of the park for "people to enjoy".
Additional funding from Durham County Council and the council's Durham Area Action Partnership, will reach a total of £3m.
Councillor Neil Foster, said the work will make Wharton Park a "special place which we can all be proud of."