Newcastle and Sunderland kick-off times row 'regrettable'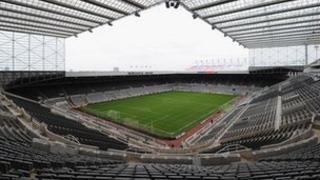 Northumbria Police has said a "very public disagreement" between themselves and two rival football clubs over kick-off times is "very regrettable".
Newcastle United and Sunderland labelled Northumbria Police's claims that they could not alter kick-off times as "false and absurd".
In a response, the force said it had "no powers in law" to change an event but it can "influence it".
The row comes ahead of the Tyne-Wear derby at St James' Park on 1 February.
Fans of the clubs joined forces to protest against plans to make away supporters travel to matches on official supporter coaches.
Northumbria Police said it "cannot direct changes" to kick-off times or control ticket and travel restrictions.
In a joint response, the clubs said they were "surprised and disappointed with the statement issued by Northumbria Police in which the force claims that the police cannot direct changes to kick-off times for the clubs' fixtures, referring in particular to the derby games".
'Sensible negotiations'
Deputy Chief Constable of Northumbria Police, Steve Ashman, said: "This is a factual position, we cannot legally direct a private company to issue its tickets subject to certain conditions, there are no powers in law for us to do that, we cannot do it.
"We can influence it, we can negotiate with the football clubs and we can sit down around the table and have sensible mature conversations with them."
The clubs' issued a statement describing the Northumbria Police contention that it could not direct changes to kick-off times as "quite frankly false and absurd".
Mr Ashman, said: "We recognise how important it is to both sets of fans. The last thing we want to do is to be sat saying to a safety advisory group and to two football groups 'we are not going to police it' which is why it is important we sit round the table and we have sensible negotiations.
"We could refuse to police an event, yes we could."
Both clubs want to have later kick-off times which would suit broadcasters.
Mr Ashman, added: "The best thing we can do is sit around the table because all three of us agree we want a safe, successful event.
"How we got to a position whereby we've got a very public disagreement about who ordered who to do what, is very regrettable.
"I'd rather we weren't in this position and I'm sure both football clubs feel exactly the same."