Great North Passion: BBC One art broadcast for Easter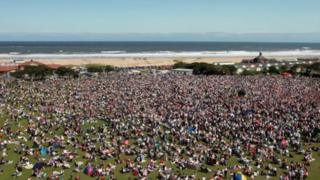 A contemporary retelling of the Easter story is to be televised by the BBC on the South Tyneside coast.
The Great North Passion will combine art installation and a broadcast at South Shields on Good Friday.
Communities given shipping containers will transform each "giant steel box into a work of art" reflecting their area and the stations of the cross.
These will form a crucifix in Bents Park at a free live performance of the story of Christ's trial and death.
South Tyneside Council deputy leader Alan Kerr said he was delighted "the eyes of the nation will once again be on South Tyneside".
Passion plays depict the last moments of Jesus' life and are traditionally performed outdoors with the involvement of the local community.
In 2012 the BBC staged The Preston Passion which broadcast live performance, music and pre-recorded drama and was hosted by Fern Britton.
The Great North Passion is part of a £2m Arts Council project aimed at increasing engagement with the arts in 10 wards in Sunderland and South Tyneside.
Project director Rebecca Ball said: "The Cultural Spring was set up to ensure as many people as possible from Sunderland and South Tyneside get to see, take part in, create and enjoy great arts projects.
"What better way to launch our three-year programme than with this fantastic partnership with the BBC?"
Bents Park, on the South Shields coastline, hosts the council's annual free summer concerts and was the venue for last year's Sound Waves, featuring local performers Little Mix and Joe McElderry.
The Great North Passion will be broadcast on Good Friday, 18 April on BBC One.