Able UK Recycling contract to bring 200 jobs to Teesside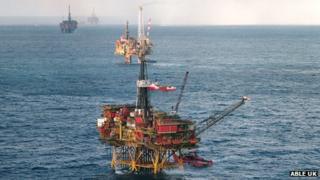 About 200 jobs could be created after a Teesside company won a contract to dispose of four offshore structures.
Able UK which deals with recycling and decommissioning of end-of-life marine structures at its Graythorpe Dock in Hartlepool won the six-year contract.
The four structures from the Shell-operated Brent field in the North Sea will travel 100 miles north-east of Scotland to Teesside.
It is anticipated that about 97% of the structures will be reused or recycled.
Able UK Limited Managing Director Andrew Jacques said: "Able Seaton Port is already a superb facility and it will see further investment from Able UK Limited with the construction of what will be one of Europe's heaviest load bearing quays."
The contract will see three platform topsides, the part of the structure which appears above the sea level, as well as a 138m high steel platform jacket, the part of the structure which appears below the sea level, transported from the Brent field over 100 miles north east of Scotland to Able Seaton Port on Teesside.
About 100 jobs will be created during the 18 month construction of the new quay with the six-year recycling contract itself generating a further 100 new jobs.
The work is due to begin subject to further offshore preparation work and regulatory approvals.