Beamish record visitor figures 'boost economy'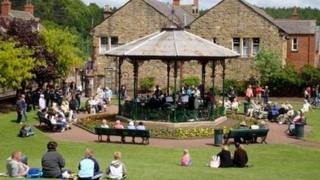 Record visitor figures at Beamish museum are a "real boost" for the local economy, its director has said.
The open air museum, which is also a charity, had 589,474 visitors during the past 12 months, beating its record of about 520,000 in 1991.
Director Richard Evans said the upturn in numbers, revenue and employment made it the "most successful year ever" since it opened in 1971.
He added the museum had created more than 100 jobs in the past 12 months.
Visitor numbers to Beamish have almost doubled during the past five years, Mr Evans said.
He added: "More than half of our visitors come from outside the North East on holiday. They visit other attractions across the region and stay overnight in our hotels, guest houses and campsites."
He said surplus money would be re-invested in new attractions including a medieval church set in the 1820s and a chemist and photographers' studio set in the 1900s.