Heather Arthur murder: Husband jailed for life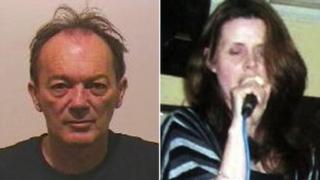 A man who stabbed his wife to death after discovering she was having an affair has been jailed for life.
Heather Arthur's body was found at their house on Woodbine Road in Gosforth, Newcastle, in April.
Mark Arthur, 50, admitted manslaughter, but denied murder. He was convicted on Wednesday following a trial at Newcastle Crown Court.
The judge has now sentenced him to life and ordered that he serve a minimum term of 18 years.
During the trial, the jury was told about Arthur's "controlling" behaviour.
He was said to have installed a tracking device on his wife's phone and taken the handles off doors.
Mrs Arthur, 50, had fallen for a fellow jazz musician, the court heard.
Her husband said he "snapped" when she began to say "preposterous things" and that she was planning to leave.
After stabbing his wife, he tried to perform CPR before running to his doctor in his boxer shorts to get help.
'Proud and loving'
Sentencing Arthur, Judge Paul Sloan QC said: "I'm in no doubt that your intention was to kill. The knife was sharp and you plunged it straight into her heart.
"Having watched you through the trial you have not shown any genuine remorse for your treatment of Heather nor for causing her death."
Heather's father Alan Naylor said his daughter's death was a "great blow" to the family and she was the "best daughter one could wish for".
He said: "The full implications are yet to be felt by the children who are the major losers as a result of this tragic situation.
"She was a proud and loving mother of her children who have now lost both a mother and a father.
"She was and still is to us a good girl in every sense of the word."