New Bishop of Durham's vow to tackle poverty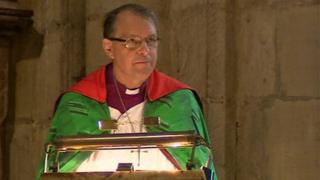 The new Bishop of Durham has repeated his intention to tackle poverty in the North East at an enthronement service at the city's Romanesque cathedral.
The Right Reverend Paul Butler told a congregation of several hundred people he was particularly concerned about the number of young unemployed in society.
Earlier, he processed from nearby Durham Castle, before knocking on the north door with a staff for entry.
He has pledged to use his seat in the House of Lords to speak for the region.
Bishop Butler joined 25 other church leaders earlier this week in condemning the government's "punitive" welfare reforms which they say have forced people into food and fuel poverty.
Deputy Prime Minister Nick Clegg rejected the claims.
'Engage with children'
In his two-hour cathedral address, the 57-year-old restated his three priorities of tackling poverty, engaging with children and young people and growing the church.
He called on the audience not to "underestimate the small", whether that meant a child, a project or a congregation.
Bishop Butler, who was previously Bishop of Southwell and Nottingham, said the church would only grow "when we engage with communities" and not try to be "a holy club".
He said: "Last September, when my appointment to this role was announced in this stunning cathedral, I highlighted three priorities.
"They interweave and intertwine in a way that it is not always possible to separate - rather like how beans grow together around a framework.
"Poverty, economic, social and spiritual, is a scourge, whether it is here in the North East, or in Lesotho, Burundi or Romania. It has to be confronted and tackled.
"But this has to be done by all sectors of society working together. The Church has a key part to play in this and we must play it to the full.
"Children and young people have a vital contribution to make to our society and to our churches now. They are not just the future, they are part of all our present.
"They must be listened to, encouraged and nurtured, protected appropriately and offered hope for their and all of our future.
"Every church needs to engage with children and young people, in schools and villages in uniformed organisations, clubs and on the streets.
"A healthily growing Church will be a Church that engages with its local community, seeking its welfare.
"We should expect growth. We do not plant seeds without expecting growth to happen.
"We know that not every seed will germinate and that some will be more fruitful than others, but we expect growth. We know, too, this happens with proper care and nurture; if we want good growth then appropriate nurture is essential."