Longhirst Hall: Popular wedding venue closes its doors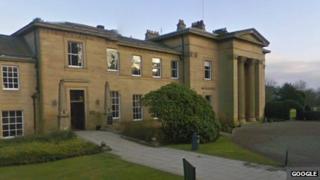 A hotel and business venue in Northumberland has closed its doors.
Longhirst Hall, near Morpeth, is a popular place to host weddings, and dozens of couples now face finding an alternative venue.
The company which operates it, Hotel Lease (Number 3) Ltd, is in the process of going into liquidation, and an administrator is being appointed.
The closure does not affect the adjoining golf club, which is run by a different company.
Northumberland Tourism, which has an office in the hall, said that it had been told to leave the premises by the end of Friday.
It said: "We have already begun the process of relocation and anticipate resuming normal business by Monday."