Northumberland rare fungus find a 'tiny miracle'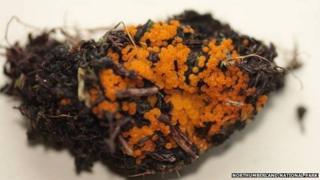 A rare fungus has been discovered in Northumberland in what is thought to be the first sighting of its kind in more than 100 years.
Northumberland National Park Authority discovered the Byssonectria terrestris, in a bog near Rothbury.
Normally at home in the forests of Russia, Scandinavia and Canada, it is believed to be the first recorded sighting in Britain this century.
A spokesman for the authority said the find was a "tiny miracle".
The fungus, which grows on moss as a cluster of tiny orange pinheads, was found during a regular peatlands site visit on a bog at Greenleighton.
The authority was visiting the site to see how the habitat was recovering after it was partially burnt in a wildfire in 2012.
The fungus needs a very specialised habitat involving burnt wood and deer urine.
Fungi specialist Gordon Simpson said: "There is no doubt in my mind that the sudden enrichment of the bog due to the potash from the wildfire made the habitat suitable for this fungus.
"There are only five records in the British Mycological Society database from 1871 to 2007 and this is the first record for Britain this century."