Theresa May denies snubbing Northumbria PCC Vera Baird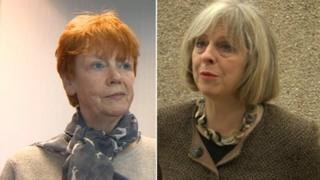 Home Secretary Theresa May has denied snubbing the higher echelons of the Northumbria police force.
Mrs May met police officers in Berwick, but not Police and Crime Commissioner (PCC) Vera Baird or Chief Constable Sue Sim.
Labour PCC Mrs Baird said it was "very disappointing" that Mrs May had not heard from "the horse's mouth, namely the chief constable".
The home secretary said she wanted to talk to officers "on the ground".
"I want to hear directly from officers about their experience," she said. "The policing minister will be coming up the week after next to speak to the police and crime commissioner and meet with her and talk to her."
'Wits' end'
Mrs May was in Northumberland on her way to the Scottish Conservative Party Conference.
Mrs Baird said she had extended an invitation in January 2013 for the home secretary to visit, but "didn't get any kind of reply".
"I then heard that she was coming here and so expected to be able to see her," she said.
She cleared her diary and the chief constable prepared to return early from holiday, she added.
"We do need to discuss the very powerful impact on morale and on the policing capacity in this area that the cuts have produced.
"The chief constable has really done magic to protect the neighbourhood policing people, but we are really now at our wits' end about where to go next."