St Cuthbert coffin fragment auctioned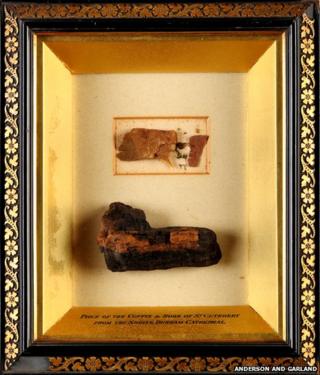 Fragments of a coffin and robe purported to belong to a 7th Century saint are to be sold at auction.
The relics are believed to have been removed when St Cuthbert's tomb at Durham Cathedral was opened in the 19th Century.
They belonged to the cathedral's consultant architect Ian Curry, who died in 2012.
Newcastle Auctioneers Anderson & Garland said it was "very unusual" to have such items for sale.
Senior specialist Steven Moore valued the items, which are displayed in a frame, at between £200 and £300 but admitted "how on earth do you value such a piece of history?".
'Talismanic object'
St Cuthbert was a monk, bishop and hermit of Lindisfarne who lived in the Anglo-Saxon kingdom of Northumbria and died in 687. The Lindisfarne Gospels were produced in his honour.
The auctioneers said fragments of the coffin were removed when St Cuthbert's tomb was opened in the 1820s and then it was opened again in 1899 and the remaining pieces removed.
Mr Moore said the fragments had been taken around the world but he was not aware of another piece having come up for sale.
"As an object it's a lump of wood and a bit of old cloth but it's a talismanic object," he said.
"To have something so strongly associated with St Cuthbert does have a certain type of magic.
"It's something that connects us to the ancient past."
He said he thought potential bidders could come from those interested in religion, history or the North East.
The fragments will be auctioned on 27 March and are part of the collection of ecclesiastical items gathered by Mr Curry during his work in church refurbishment.