Byker Wall's £9.5m facelift officially launched by housing minister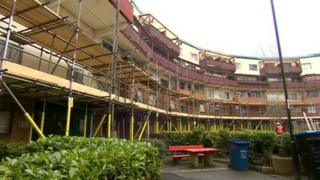 A multimillion-pound refurbishment of an iconic Tyneside housing estate has been officially launched by the minister for housing.
MP Kris Hopkins visited Newcastle's Grade II-listed Byker Wall development earlier to cut the ribbon on a £9.5m overhaul.
The project will see a new roof, windows and doors for 400 flats and maisonettes.
The improvements will be phased and are expected to take two years to complete.
It is part of a £26m five-year investment scheme previously announced by the Byker Community Trust (BCT), which owns and manages more than 1,800 homes on the estate.
'Special place'
Improvements will also be made to communal stairwells and entrances while each property will also get broadband.
BCT's chief executive Jill Haley said: "It's the start of a landmark investment programme.
"The wall does need modernising, it needs bringing back to its original iconic structure and elegance and this investment programme will see that happen."
Mr Hopkins added: "I know how important council homes for people are. This is about their special place where they bring their families up.
"We need to make sure people live in decent homes and we need to support them - whether it's at government level or council level."
The Byker Wall development rose from the rubble of slum clearances in the east end of Newcastle in the 1960s.