David Kochs death: Former vet guilty of S&M killing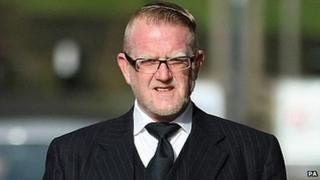 A former vet has been found guilty of killing a man during a drug-fuelled sadomasochistic sex session.
David Kochs, 43, was found dead with a number of injuries at Kirk Thompson's Newcastle home in March 2013.
Thompson denied manslaughter, unlawful wounding and assault, saying they had "extreme, no limits" consensual sex after making contact on the internet.
The 46-year-old was found guilty and will be sentenced at Newcastle Crown Court on Thursday.
He had earlier admitted possession of crystal meth.
Covered body
The court was told that Mr Kochs' injuries included severe internal ones and burns to his private parts.
Following the sex session, Thompson covered his body with a duvet, saying he thought he had gone to sleep.
He then invited another man to his home and had sex with him.
The next morning, on discovering that Mr Kochs was dead, Thompson messaged his father and said: "Can you come down immediately.
"Something tragic has happened, just you not Mum please ASAP."
On arrival, his father immediately contacted the emergency services.
Mr Justice Globe warned Thompson he should expect a custodial sentence.