David Kochs S&M death: Kirk Thompson given 10-year term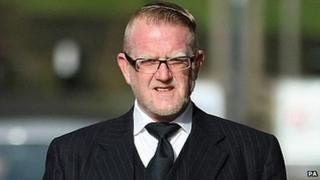 A former vet who killed a man during a drug-fuelled sadomasochistic sex session has been jailed for 10 years.
Kirk Thompson, 46, inflicted a number of injuries on David Kochs at Thompson's Newcastle home following internet contact in March 2013.
Thompson denied manslaughter, unlawful wounding and assault, saying they had "extreme, no limits" consensual sex.
The jury at Newcastle Crown Court heard Mr Kochs, 43, suffered burns to his private parts and internal injuries.
Afterwards Thompson covered his body with a duvet, saying he thought he had gone to sleep.
He then invited another man to his home and had sex with him.
'Sadistic and arrogant'
The next morning, on discovering Mr Kochs was dead, Thompson messaged his father pleading with him to come round "immediately" as "something tragic has happened".
On arrival, his father immediately contacted the emergency services.
Thompson, who had earlier admitted possession of crystal meth, was ordered to serve a further five years on licence.
Sentencing, Mr Justice Globe said: "What you did to David Kochs was unusual, exceptional and undoubtedly dangerous and unlawful."
Det Ch Insp Ged Noble, from Northumbria Police, said the investigation involved "delving into the most intimate details of people's lives".
He said: "It has absolutely not been about sexual orientation or about criminalising consensual sexual behaviour, it has been about an individual who would go to the extreme to satisfy his own desires with no regard whatsoever for the person he was with.
"Kirk Thompson is a sadistic and arrogant individual who took complete advantage of David Kochs to inflict violent injuries on him for his own sexual gratification and, as a result, caused his death."
Mr Kochs' family said in a statement: "For us there was only ever one outcome for someone who had inflicted such violent and physical force against David who was unable to defend himself.
"David was a fun-loving, happy, kind and caring son, brother, nephew and uncle who loved and was very much loved by us all."