Tyneside fire: Scientist sheds light on blaze 160 years ago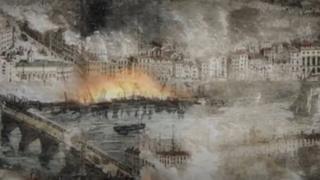 A scientist has come up with a new theory about what caused a historic warehouse fire to spread so quickly that it killed more than 50 people who had gathered to see it.
Dozens of buildings were destroyed and 53 people killed despite having a river between them and the blaze when it took hold at Wilsons worsted wool factory.
It had started off slowly in the empty building on the Gateshead side of the Quayside, early on 6 October, 1854.
But by the time the blaze had drawn a crowd of hundreds to its colourful flames, it had turned into an exploding inferno - sending fireballs and debris shooting across the Tyne.
Now, 160 years on, chemist Dr Graeme Turnbull has used small laboratory explosions to shed light on why the fire turned into a blaze of such intensity.
His theories feature in a new film Great Tyneside Fire - 1854 by filmmaker Mark Thorburn, of Sunderland-based Lonely Tower Film and Media.
'Cheek to jowl'
Dr Turnbull's main focus was on a nearby chemical warehouse packed with 3,000 tonnes of sulphur and nitrate of soda - two of the ingredients needed to make gunpowder, but no actual gunpowder.
Anthea Lang, of St Mary's Heritage Centre, Gateshead, said those living on the Quayside at the time were already enduring terrible living conditions before tragedy struck.
She said many of those left homeless by the fire had been living in cramped tenements "cheek to jowl" and there had been a cholera epidemic the year before.
Many of the spectators who watched the tragedy unfold were packed on the High Level Bridge on the north bank of the River Tyne which opened in 1849.
Historian Freda Thompson, of the Newcastle Antiquarian Society, said: "Rents mopped up most of people's wages - so they were really quite poor.
"A disaster like this was good entertainment and the crowds flocked to the Quayside. They were crowding on to bridges and some were even climbing up boat masts on the Tyne to get a better view."
Mr Thorburn said that as the mill became overwhelmed by the fire it spread and the sulphur in the warehouse melted, cascading purple liquid out the windows into the Tyne.
The violet-flamed puddles formed on the water providing a mesmerising sight for onlookers.
Dr Turnbull said: "Sulphur has quite a low melting point and the molten liquid would have been pouring out of the warehouse at quite a rate.
"There would have been puddles of sulphur with violet flames, Even on the other side of the Quayside you'd have been able to see all this in its full glory.
After the fire had been raging for a couple of hours, there were two explosions.
Ms Lang said: "There were a couple of small explosions and sadly this was the time people should have moved when the ticking time bomb began, but they didn't.
"This to modern ears would have been a warning to get away."
After recreating the conditions in his lab, Dr Turnbull believes that cement dust could have been the catalyst for the next almighty explosion that rocked the Quayside, and not gunpowder.
He said: "Flames getting into areas where sulphur gases had built may have been to blame.
"When we've got very finely ground particles like dust and they became airborne by a gust of wind and into the path of a flame, they can flare up.
"There were casks of cement dust there at the time."
Ms Lang said: "Miners actually came out of pits because they heard the explosion - it was like a volcano."
According to records, the inferno claimed victims miles away including Frank Conway, 6, who died after being hit by masonry going through the roof of his home as he slept.
Sarah Hutchinson, 65, of Rabbit Bank, is said to have died of fright.
But there were some crumbs of comfort to come from the disaster.
Mr Thorburn said that thanks to the generosity of a relief fund many families were given £50, making them better off than before the fire.