Durham prison gave 'weak' support to crisis inmates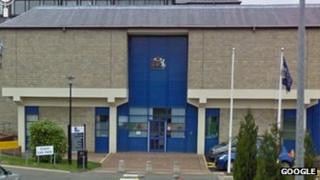 Care for prisoners at risk of self-harm at a prison where four self-inflicted deaths took place in just over two years was "weak", inspectors found.
Safety and respect for prisoners at HMP Durham were deemed "not sufficiently good" after an unannounced inspection.
But the report by HM Chief Inspector of Prisons noted improvements and strengths in some areas.
The National Offender Management Service (NOMS) said HMP Durham had improved and become cheaper.
Inspectors visited the 1,000 capacity category B prison in December.
The subsequent report found violent incidents were too frequent and there was evidence of underreporting.
It also described support for prisoners "in crisis" and likely to self-harm as "inadequate", although there had been a drop in self-harm.
Recommendations not followed
There had been four self-inflicted deaths since the previous inspection in September 2011.
Tests suggested illicit drug use was almost twice as high as would be expected in similar prisons, but inspectors found the supply of drugs had been reduced and treatment had improved.
Inspectors found mental health provision was "excellent" and that the prison had a "strong focus" on developing prisoners' skills for future employment.
But the prison had failed to achieve just over half the recommendations made following the previous inspection.
HM Chief Inspector of Prisons Nick Hardwick said: "Durham produces some reasonable and, at times, very good outcomes for prisoners."
But he added: "Many services were not good enough. Progress needs to be speeded up."
Michael Spurr, chief executive officer of NOMS, which runs prisons in England and Wales, said the prison had made progress, while acknowledging there was "more to do".