Toddler Oliver Embleton calls 999 for passed out mother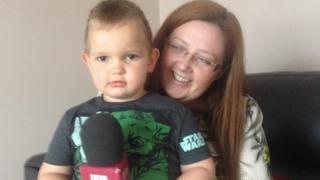 A toddler has been praised for calling 999 when his mother passed out at their County Durham home.
Nikki Embleton sometimes blacks out and had taught her son Oliver how to use their landline at their home in Thornely in case of emergencies.
Earlier this week she lost consciousness when alone with Oliver and came round to find him on the phone to a police officer.
Mrs Embleton called Oliver her "superhero" who made her very proud.
Oliver received a new toy plane for his actions.
'My little hero'
Mrs Embleton said she lost consciousness when she stood up suddenly in their front room.
She said: "Oliver dialled 999 and said: 'mam fell over' but I heard later he was whispering so much that the operator thought he was a little girl.
"The call was transferred to a police officer who kept Oliver talking and they managed to trace our address from the landline.
"I came round and Oliver was still on the phone to the police and an ambulance came within a few minutes. It is very reassuring that Oliver knows what to do.
"He is my little hero and superstar even though he doesn't understand what he has done. I couldn't be prouder."
Mrs Embleton said she believed every parent should show their children how to dial 999 in case of emergencies.
She added: "You just never know - as soon as they can understand all parents should show their children what to do - but obviously they mustn't use phones for anything else, just for emergencies."