Janet Brown murderer Donald Graham's web of lies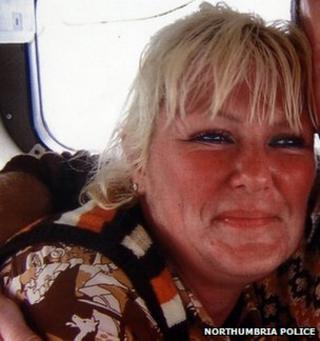 Murderer and fraudster Donald Graham, who has been jailed for life with a minimum of 32 years, spun such a web of lies that his lover Janet Brown's parents never suspected foul play.
Graham had fallen for another woman and wanted property developer Ms Brown's money to fund his lavish lifestyle.
He went on to strip her estate and that of her wealthy parents.
Although he was careful to cover his tracks, his lies were ultimately discovered.
Graham's first move had been to convince Ms Brown's parents she was in France, and such was his success they told police they had no concerns over her whereabouts.
One of Ms Brown's friends who confronted Graham two years after she was last seen was told she was "doing her own thing".
Graham, 60, of Seaton Delaval, Northumberland, forced his wife to impersonate her, to get her money and in a bid to show she was still alive.
Ms Brown, 45, who also worked part-time as a film extra, became involved with the digger driver in 1998.
'I'm fine'
According to one friend she was besotted with him, even hinting she had picked out her wedding dress.
The pair were supposed to be going on holiday to France in June 2005, but he cancelled, claiming his wife was ill.
Ms Brown then told friends she was going alone - but has not been seen since.
In the next few weeks her parents received postcards from France, apparently from her.
The first read: "In France. Got a job as a courier. Don't worry about me, I'm fine. Janet."
A later one said: "I've been promoted, still in France, now got company car. I'm fine. Janet."
Although there were no contact details on either, her parents told a Northumbria Police officer that they had no concerns.
Police were only alerted after Ms Brown failed to turn up for a session as a film extra.
'Relaxed and happy'
The officer reported her parents as saying she was not travelling with a mobile phone and planned to contact them at her next port of call.
They had recently had a call and were expecting another, they said.
The officer's report ended by describing her parents as "very relaxed and happy".
One friend, Maureen Houghton, had repeatedly attempted to contact Ms Brown, but found her phone dead.
When she questioned Graham after spotting him on a Hexham street in 2007, he gave evasive answers.
At his trial, she said: "I asked him was it not strange that she had not contacted him and he was quite blase about it, and said that Janet would do her own thing and that was it as far as he was concerned."
In 2006, Ms Brown's Porsche, with personalised number plates, was sold on eBay.
Later that year, someone claiming to be Ms Brown rang her bank and after answering security questions, transferred all the money into Graham's account.
Meanwhile, her parents Olive and Eric were elderly and in poor health and Graham inveigled himself into their lives.
He gained access to their bank documents and personal details and when they died, in 2007 and 2008 respectively, he organised the funerals.
Interpol investigation
Canon Jack Trimble, who officiated, described it as "odd" the couple's only child attended neither service, but also praised Graham's kindness in "stepping in to help".
It was not until a year after Mr Brown's death that Graham's lies began to unravel.
Fraudulent activity was suspected on one of Mr Brown's bank accounts.
The subsequent investigation turned into a missing persons inquiry after Europe-wide searches involving Interpol uncovered no sign of Ms Brown.
It emerged that her driving licence and passport had expired in 2008 and were not renewed.
Despite having diabetes, she had not contacted her doctor or ordered any insulin on prescription.
She had not been in contact with any of the 306 people listed in address books and diaries found at her home.
Nonetheless, in 2010, Graham forced his wife Denise to phone a solicitor and pretend to be Ms Brown.
However, these latest attempts at deception failed.
Ms Brown's body has never been found.