Terrorism Unit joins Newcastle University probe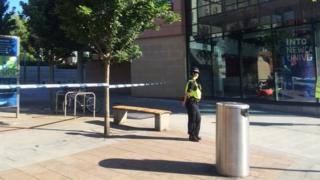 The discovery of explosives at Newcastle University is being investigated by the North East Counter Terrorism Unit.
A controlled explosion was carried out on items found earlier in the week and a "further suspicious substance" was found in the early hours of Thursday.
Part of the campus was cordoned off and evacuated after each discovery.
Officers have been granted more time to question two male Russian students arrested in connection with the events.
One, aged 18, was arrested in London on Tuesday on suspicion of offences under the Terrorism Act.
The second, also 18, was arrested in the local area on Wednesday on suspicion of conspiracy to commit grievous bodily harm and offences under the Explosives Act.
'No immediate risk'
The counter terrorism unit (CTU) said it would lead the inquiry because of the potential offences under investigation, but said it would be working with Northumbria Police.
The CTU said there was "no evidence to suggest" students or anyone else was at immediate risk.
"We recognise that people may have concerns as a result of this activity and would like to reassure them that precautions were taken at the earliest opportunity to ensure public safety while inquiries were undertaken," a spokesman said.
"We would ask people not to be alarmed and we are grateful for the patience and understanding of people locally."
On Tuesday, the discovery of suspicious items prompted the evacuation of the INTO language unit.
A bomb disposal team later performed a controlled explosion on the Town Moor.
Northumbria Police assistant chief constable Jo Farrell said staff at the university raised the alarm on Tuesday morning amid concerns a student was carrying a knife.
She said a subsequent search of the student's bedroom revealed several items later determined to be explosives.
She added: "In line with nationally agreed protocols counter terrorism officers attended the scene and as a result of their initial assessment a military explosive ordnance disposal team attended.
"Following a detailed assessment the items were identified as being explosives. They were removed by the military and a controlled explosion was carried out."
Ms Farrell said three areas of the university were searched extensively which led to the discovery of further suspicious items and a second evacuation in the early hours of Thursday.
University registrar John Hogan praised the response by the police and reassured staff and students that there was "no need for alarm".
The police cordon at the King's Gate administration building and the INTO accommodation block was lifted at about 13:00 BST and the buildings reopened.
Newcastle University caters for more than 22,000 UK and international students and has 1,200 academic staff.
The INTO Centre offers facilities for more than 700 mainly international students and is spread over four floors.