River Wear excavation yields historical treasures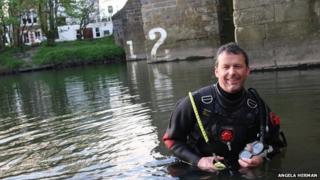 The findings of an underwater riverbed excavation are going on display in County Durham.
Diving into Durham showcases a collection of artefacts recovered from the River Wear by local fireman, diver and archaeology student Gary Bankhead.
A watch manager by day at Durham Fire Station, he began his excavations in 2007 following a suggestion from his wife to investigate the riverbed beneath the city's bridges.
To date, he has recovered more than 3,500 objects of historical interest, from medieval pins and rare coins to Tudor ear picks and a Victorian watch.
On his very first dive, Mr Bankhead and his brother Trevor found an ornate silver trowel buried in the shingle.
The vital research collection was found in the water underneath Elvet Bridge, one of the oldest bridges in Durham city.
It is thought many of the artefacts could have been lost off the side of the bridge by passers by, or even thrown in deliberately.
Mr Bankhead said: "The collection is made up of many ordinary and extraordinary objects which are challenging the way we understand Durham's past.
"Whether in the River Wear through deliberate deposition or accidental loss, these objects represent a direct link to the people who once lived and died in the City of Durham and its immediate hinterland."
The findings have shed light on centuries of Durham's past, including the tales of its people and its industries and heritage.
A collection of lead cloth seals - the largest single one outside of London available for analysis - is a particularly significant find, as it helps understanding of the textile and fashion trade of the late medieval and post-medieval period.
Another object found on the riverbed would have been of sentimental value.
The gold mourning ring, in memory of Ann Stuart, who died in 1775, aged 35, would have been worn by her husband.
Underneath the rock crystal are filaments of her hair, which after analysis, revealed she would have had red hair.
Mr Bankhead said the ring could have been worn by her husband and on a cold day it may have dropped off his finger into the river below.
He said: "The exhibition marks an exciting milestone for me in the ongoing excavations in the River Wear in Durham City.
"I feel privileged to be a part of the team excavating, conserving, exhibiting and researching these fascinating objects."
The exhibition has been created by Durham University students as part of their MA in Museum and Artefact.
Diving into Durham is on display at Durham University's Palace Green Library until 7 September.