Newcastle University student charged after bomb scare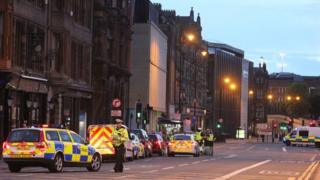 A teenage student has been charged with manufacturing an explosive substance after suspicious items were found at Newcastle University.
Part of the campus was closed off on two days last week after a substance was found on Tuesday and then again on Thursday.
Two 18-year-old Russian students were arrested.
One has been charged with manufacturing the explosive and having a bladed article in a public place.
The charged student was arrested in London on Tuesday, initially on suspicion of offences under the Terrorism Act.
The charges, however, come under different legislation.
The other man, who was arrested locally on Wednesday, remains on bail pending further inquiries.
Police carried out a controlled explosion on a substance that was found on Tuesday in the university's INTO language school.
Buildings on the campus were then cordoned off again on Thursday when another suspicious item was found.
The charged man will appear before magistrates in London on Tuesday. The court has not been confirmed.