Janet Brown murder: Donald Graham found guilty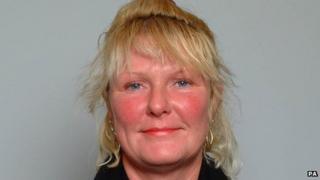 A 60-year-old man has been found guilty of murdering his wealthy lover.
Donald Graham had denied the murder of Janet Brown, of Hexham, in 2005 and concealing her body, before stripping her and her parents' estates.
Graham, of Sparty Lea, Northumberland, had admitted fraud at an earlier hearing at Newcastle Crown Court.
The jury was unable to reach a verdict on co-accused Elizabeth Todd, who denied fraud and perverting the course of justice. She now faces a retrial.
The jury, who had been deliberating for six days, earlier heard that Graham used Ms Brown's money to buy expensive cars for himself and a house for Ms Todd.
Ms Brown, who had worked as an extra on television and as a mystery shopper, has not been seen since 2005.
'Controlling and manipulative'
She "disappeared from the face of the Earth", just before she was due to go on holiday with Graham, said the prosecution.
The court heard that, having disposed of her body, he took advantage of the fact that Ms Brown had planned to go abroad by sending fake postcards from France saying she had found a job.
He went on to transfer money from her account into his own and sold her Porsche, which had personalised number plates, on eBay.
In addition, he befriended her frail and elderly parents and when they both died, he drained their assets until only their farm was left.
Graham will be sentenced on Friday.
A trial date for Ms Todd, 52, of Seaton Delaval, has yet to be fixed.
Speaking after the verdict Det Ch Insp Nicola Musgrove, of Northumbria Police, said: "Graham is a controlling and manipulative man, particularly towards women, a bully who deliberately instils fear into people and uses intimidating behaviour to get his own way.
"He is a callous man who made it look like Janet was alive when in fact he had, motivated by financial greed, murdered her.
"Despite living a seemingly modest lifestyle, Janet Brown had considerable assets - Graham fraudulently accessed these and her parents' money and squandered everything on a lavish lifestyle for himself.
"This has been a long running, complex investigation with many challenges; not least that Graham has never indicated where Janet's body is.
"The final piece in Janet's murder would be for Graham to admit what happened to her and give her family the opportunity to grieve."
Janet Brown's family said in a statement: "The last four years have been very difficult for us, dealing with the aftermath of these events.
"We would like to say that we are pleased with the verdict."