Tsunami worker David Collins of Consett in £400k stress payout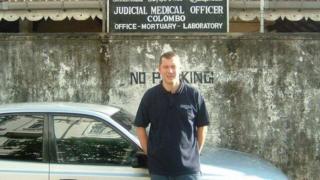 A police trainer who helped handle bodies after the 2004 Tsunami has won a £400,000 compensation after suffering post-traumatic stress disorder (PTSD).
Forensic expert David Collins, 45, of Consett managed a mortuary following the disaster which killed 228,000 people around the Indian Ocean.
When he returned to the UK, Mr Collins did not receive a debrief from the National Police Improvement Agency.
The agency admitted a breach of care to Mr Collins and apologised.
Mr Collins said he worked 16-hour days, for six weeks photographing and fingerprinting bodies in Sri Lanka.
He quit his job in the UK in 2011 after developing mental health problems.
The case was settled out of court after the police agency, which has since been replaced by the College of Policing, admitted Mr Collins should have been referred to an occupational health specialist.
'Ruined career'
Mr Collins said: "While I am pleased that I was able to go to Sri Lanka and help support them during the country's time of need, the illness I have suffered because of the lack of support from my previous employers has ruined my career and turned my life upside down.
"It's a horrible image, but it was like a production line of bodies that we were working on 16 hours a day, it had a massive impact on me psychologically."
During the first two weeks in Sri Lanka, Mr Collins worked with a team which was not forensically trained so had to do most of the work, his solicitor Irwin Mitchell said.
A spokeswoman for the College of Policing, said: "The College has negotiated, in good faith, an arrangement that should see Mr Collins receive the treatment and support he needs to recover from his injuries and lead an active life.
"We recognise there are lessons to be learned from this unique deployment."