Northumberland County Council pothole fix 'short-term'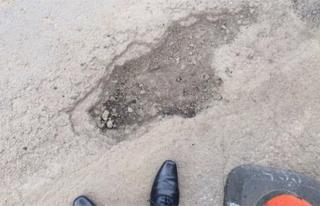 A council in north-east England, which said it had cleared a backlog of potholes in its roads, has been accused of putting a "sticking plaster" on the problem.
The Labour leader of Northumberland County Council, Grant Davey, promised in January to fill in about 12,000 potholes before the end of June.
The council said it had cleared the final pothole in the backlog on Friday.
But the Conservatives said Labour had changed its initial promise.
Councillor Ian Swithenbank, Labour's policy board member for street care and environment, said the Labour group had made potholes a "high priority".
He said: "We on our road network get something like 600 new potholes every week, but we have caught up with the backlog.
'Ridiculous claim'
"We're hoping we have a three-year hiatus before we need to address them again."
But Councillor Peter Jackson, leader of the council's Conservative group, described that claim as "rubbish".
He said: "It's just a sticking plaster. Some of their repairs have come out already.
"Quick-fixing the holes is a short-term way of doing it. What the roads need is capital works and resurfacing."
He also said Mr Davey had changed what he had initially promised to do.
"The original claim was that they'd clear all potholes. That's obviously a ridiculous claim."
A council spokesperson said Mr Davey had "made it clear that the commitment made was to clear the backlog".
The council estimated it now had a total of between 2,000 and 3,000 reported potholes.