Segedunum's lost Roman baths rediscovered close to fort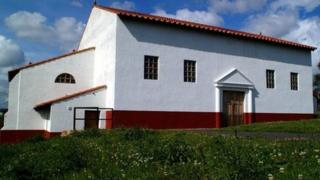 The remains of a long-lost Roman baths have been rediscovered close to a Tyneside fort.
Volunteer archaeologists have unearthed an original bath house near Segedunum Roman Fort, Wallsend, which were first discovered in 1814.
However, coal staiths and later a pub, were built on top of the bath house and it was long forgotten until now.
Project manager Nick Hodgson said they had "struck gold" finding the Roman building on their first attempt.
Archaeologists found the site by researching old maps and records to pinpoint the location of the baths close to the former Ship in the Hole pub.
Initial trenches were dug by the team in the spring, which unearthed Roman pottery, waterproof bath cement and building stones, all of which points to it being the original bath house site.
The group said its findings are in a "very typical location" for a bath house.
Iain Watson, director of Tyne & Wear Archives & Museums, said: "Twenty-eight years ago, when I worked in Wallsend, I occasionally had a sandwich at lunchtime in the Ship in the Hole. Little did I think I was sitting on top of a Roman bath house.
"The bath house really was a central part of Roman society - both civil and military and this is a fantastic find - particularly given the coincidence that it is 200 years since the remains of the baths were last seen."