'Usain Bolt' tortoise set to enter record books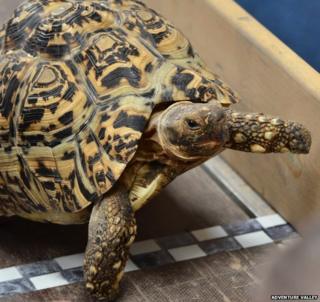 A tortoise is set to stroll into the record books as the fastest in the world.
The current record has been held since 1977, when one named Charlie travelled 5.48 m (18 ft) in 43.7 seconds.
Bertie, from Adventure Valley in County Durham, has been timed as covering the same distance in 19.59 seconds.
Guinness World Records said it had been informed of the attempt and was awaiting evidence before the record claim could be verified.
The Leopard tortoise was given to the adventure park and farm three years ago when his owners went abroad.
His age is unknown, but Leopard tortoises typically live to 80 - 100 years old.
'Personal best'
The record attempt was on a running track 5,48m (18ft) long and at an incline of 1 in 12, specified by Guinness.
Two sports coaches from Sunderland AFC Foundation of Light officiated and a vet and tortoise specialist were also on hand.
Afterwards, Marco Calzini, from Adventure Valley, said: "Bertie's like the Usain Bolt of the tortoise world.
"The best time he has done in training was 21 seconds but come the big day he flew down the track in a personal best time of 19.59 seconds, setting a new world record."
The previous record was set at the National Tortoise Championship at Tickhill, South Yorkshire, on 2 July 1977.
Guinness World Records said in a statement: "Bertie's owners have been in contact with us.
"They will have to submit evidence for us to review before a record claim can be verified."