Durham Light Infantry's role in WW1 explored in exhibition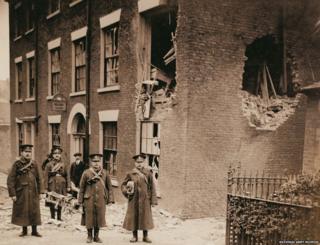 An exhibition exploring Durham's role in World War One is on display in the city.
Durham Light Infantry Goes to War delves into the regiment's role in the conflict, from the soldiers' life at home to their arrival on the front line.
Formed in 1758 by General John Lambton of County Durham, the 68th Regiment of Foot became a light infantry in 1808, before becoming Durham Light Infantry in 1881.
The regiment fought in every major battle of the Great War, and about 13,000 of its men died.
The exhibition commemorates the infantry's part in the war through a collection of posters, uniforms, photographs, weapons and letters on loan from the National Army Museum.
Janice Murray, director general of the National Army Museum, said: "Peppered with stories showing how the Durham Light Infantry played its own important part in the events of the First World War, Durham Light Infantry Goes to War untangles the complex war experience of the county."
The exhibition also explores the bravery of the all-volunteer 18th Battalion, which came under fire from zeppelins on the Hartlepool coast in December 1914.
Individual stories include a message written by Pte Thomas Hughes to his wife, while on his way to the front line on 9 September 1914. He was killed in action just days later.
Durham Light Infantry Goes to War is on display at the Durham Light Infantry Museum until 22 March 2015.