Sunderland pub's wheelchair ban sign 'not malicious'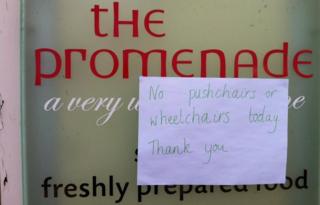 A pub landlord who displayed a sign during the Sunderland Airshow stating "no pushchairs or wheelchairs", said it was not meant in "malice".
A sign was put up at the entrance to The Promenade in Sunderland over the weekend which read: "No pushchairs or wheelchairs today. Thank you".
Paralympian and disability rights campaigner Baroness Tanni Grey-Thompson said she found it "offensive".
But licensee Derek Winlow said it was due to "health and safety concerns".
The sign was put up due to a "high volume" of visitors in the area for the 26th Sunderland International Airshow, Mr Winlow said.
He said: "We decided we would give assistance to anyone who had any sort of disability or children with them, that if they wanted to enter the pub, we could dismantle whatever they were in and store them away safely until they left the pub.
"This sanction was taken because of the high numbers. It was quite a hurried decision and the safety aspect overruled anything that could have been offensive."
Mr Winlow said disabled people were assisted into the pub on the day and no-one had mentioned the sign.
Baroness Tanni Grey-Thompson said: "I find it offensive and rude. I hope it was an unfortunate mistake and that someone wasn't thinking.
"Disabled people do have money to spend, we're not just an inconvenience and my chair doesn't take up any more space than a normal chair. It sends out a really poor message about inclusion in society."
Mr Winlow said: "There was no malice in any signage that went there, it was purely a decision made on the spur of the moment because of health and safety concerns.
"It has upset me, yes. Ok, the signage might not have been 100% politically correct, but we do our best."