Karl Carson Marsden Grotto cliff death witnesses sought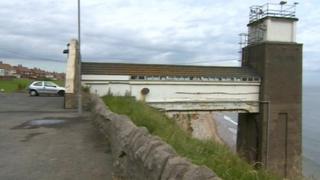 Two witnesses who stopped at the scene where a man escaped from a police vehicle and went on to plunge to his death over a cliff edge are being sought by police.
Karl Carson's body was found next to Marsden Grotto cliffs in South Shields, shortly after 01:00 BST on 6 July.
Northumbria Police had earlier arrested the 26-year-old, of Boldon Colliery.
The two men stopped at the scene to offer help to the officers during the arrest at about 12:40 BST, police said.
Northumbria Police said it was believed the men, who were passing in a car when they stopped at the scene, may have information which could help with the investigation.
Officers had been in the process of arresting a second man in connection with a fight when Mr Carson "escaped" from the vehicle and "ran off from officers", an earlier Northumbria Police statement said.
The incident was referred to the Independent Police Complaints Commission, but the watchdog decided the investigation "will remain with Northumbria".