Operation Sanctuary: Men jailed for 16 years for sex crimes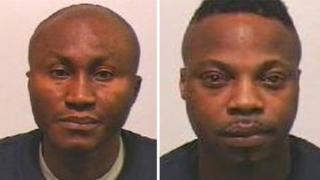 Two men from Newcastle have been jailed as part of a police investigation into the sexual exploitation of women.
Hafeez Cole Oye-Dada, 44, of Hampstead Road, was jailed for 10 years after he was convicted of raping a female under the age of 16.
Moses Ologbenla, 31, of Ellesmere Road, was convicted of grooming and sexual activity with a girl under 16 and was jailed for six years.
The men were sentenced after a two-week trial at Newcastle Crown Court.
Both had denied all the charges against them.
Operation Sanctuary is a wide-ranging investigation by Northumbria Police into allegations of sexual crimes against vulnerable women and girls.
Northumbria Police's Assistant Chief Constable Winton Keenen said the force was pleased the court had "recognised the dreadful crimes these two men have committed".
"They targeted their victims, knowing they were under age and preyed on their vulnerabilities," he said.
"This was with the intention of luring them into a false sense of security so they could sexually assault and rape them, all while under the influence of significant amounts of alcohol, which they supplied."