Drowned dog rescuer Alex Hardy unable to swim, mother says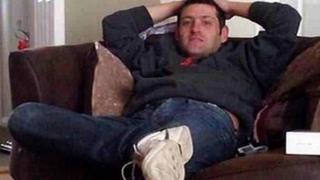 A Stockton man who drowned after wading into the sea to rescue his dog could not swim, his mother has said.
Father-of-two Alex Hardy, went into the water near Grangetown, Sunderland, after his pet on Monday.
A woman went in after him but was rescued by a lifeboat. A search of the coast was launched and the 32-year-old's body was recovered earlier.
His mother Michelle Taylor said her son could not swim but had gone into the water because he had a "big heart".
The dog was said to have made its own way back to the beach.
Ms Taylor made her comments on a visit with family and friends to Hendon promenade, where her son went into the water.
She said: "He provided for his family - he had two little boys. He went in for his dog - he had a big heart and loved his animals."
Police confirmed Mr Hardy's body was found on the beach at nearby Grangetown after the search resumed at low tide.
A Humber Coastguard spokesman said: "Eyewitnesses who called 999 said they believed the two people went into the water after their dog who had got into trouble in the water.
"The lifeboat crew had just finished another incident to the north of Hendon, when the call came in so they couldn't have got there any quicker."
James Jamieson, operations manager at Sunderland RNLI, said: "Our thoughts are very much with the casualties and their friends and family," he said.