South Tyneside and Gateshead hospitals cancer care rated top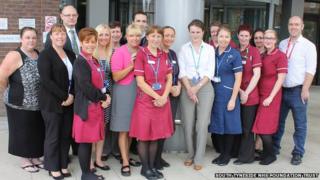 Hospitals on Tyneside have been rated the best in England for cancer care by patients, according to analysis by a charity.
NHS England asked over 70,000 patients about their experience of care and Macmillan Cancer Support organised a league table of health trusts.
South Tyneside NHS Foundation Trust came top, with Gateshead Health NHS Foundation Trust second.
Northumbria Healthcare NHS Foundation Trust was rated sixth.
The league table compared the performance of hospitals against measures including clear explanation of diagnosis and treatment, support for those receiving care and patients being treated with respect.
South Tyneside trust's chief executive Lorraine Lambert said: "I am very proud indeed of this achievement, which is testament to the hard work of staff."
Carolyn Harper, head of cancer services at the Queen Elizabeth Hospital in Gateshead, said she was "extremely pleased" by her trust's rating.