Tynemouth Volunteer Life Brigade: 150 years of saving lives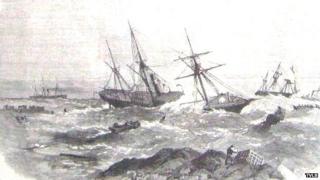 On 5 December 1864 a group of men gathered in a coastal town to discuss the aftermath of a maritime disaster.
Eleven days earlier two ships had been wrecked on the notorious Black Middens at the mouth of the River Tyne during a massive storm.
Despite efforts to save those on board, 34 people died within sight of a crowd gathered on land.
From this event emerged the Tynemouth Volunteer Life Brigade (TVLB).
It came about because one of those watching the disaster was John Morrison, an officer in the military volunteers based at Tynemouth Castle.
He believed that if there had been a body of men trained and disciplined, the breeches buoy apparatus might well have saved those on the ships.
Civic dignitaries took up his cause and called a public meeting in North Shields Town Hall.
It was agreed to set up a group "trained, ready and willing to assist HM Coastguard to save life from shipwreck" and more than 100 men signed up on the spot.
The Board of Trade, which was then responsible for HM Coastguard Service, was so impressed by the principle and the performance of TVLB that it called for similar teams to be formed around the coast of the UK.
It was to be the foundation of the Auxiliary Coastguard Service, recently renamed the Coastguard Rescue Service.
TVLB, which is still funded entirely by contributions, now deals with an average of 120 callouts a year.
The members - who are all volunteers with a high level of training in rope, water and coastal rescue - give up between five and 10 hours a week of their time to the cause.
As part of its 150th anniversary celebrations, past and present members will be attending the annual "smoking concert" at the watch house later.
The title refers to a time when the brigade's management used to put on an evening of thanks and celebration for its more than 100 members, by providing them with a pipe and tobacco, along with food and drink, as a way of acknowledging their hard work over the previous year.
Peter Lilley, the brigade's captain, said: "As the membership has decreased to around 20, and remembering the rules and declining popularity of smoking, the night is now a fundraising event.
"However, it still sticks to its routes of celebrating the work of the brigade and the commitment and dedication of its members."
The brigade was based in the purpose-built watch house from 1877.
Now a museum, it is being jointly restored by the brigade and North Tyneside Council, with funding awarded by the Heritage Lottery Fund.