Accomplice theory over murder of Chinese couple in Newcastle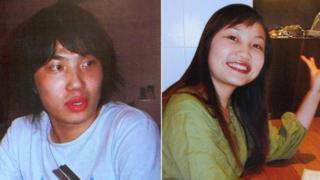 The detective who led the investigation into the "assassination" of a Chinese couple has said he does not believe the man convicted acted alone.
The mutilated bodies of Zhen Xing Yang and his girlfriend Xi Zhou were found in their flat in Newcastle in 2008.
In 2009 Guang Hui Cao was jailed for a life with a minimum term of 33 years.
Det Supt Steve Wade, of Northumbria Police, said while there was no hard evidence he believed more than one person was involved.
The couple, both aged 25 and former students at Newcastle University, were found in their flat in Croydon Road on 9 August 2008.
'Organised crime'
The judge at the trial said their deaths involved "horrifying and unimaginable suffering" and that he was satisfied it was an execution. The investigation into their deaths features on the BBC Crimewatch programme on Thursday night.
Det Supt Wade said during the police investigation it had emerged the pair had been involved in an online betting operation and also in the falsification of documents as a way of getting people into the country.
He said: "There was no evidence to suggest any other people were involved from the crime scene in terms of DNA or witnesses.
"However, when looking at the way they were killed and the background, I wouldn't be surprised if more than one person was involved in these killings.
"Not necessarily the person tying them up, but involved in organising it.
"We believed organised crime was behind it; by definition it suggests more than one person was involved.
"We haven't hard evidence to suggest more than one person but it is applying a degree of common sense."
Frustration over motive
Det Supt Wade, who retires soon, said despite his belief others were involved, he was convinced the right man was convicted of actually killing them and described him as an "assassin".
He said it had been fascinating case to work on but his frustration was that they were never able to properly show what the motive was.
"The only person who can tell us is Guang Hui Cao and I don't think he will ever say anything," the detective said.
"The truth may come out one day."
He said there was no active investigation or new evidence and the case was not about to be reopened but if anyone had new information that could lead to anyone else being brought to justice police would like to hear from them.
The case features on Crimewatch on BBC One on Thursday at 21:00 BST.