American bulldog attack: Man who lost arm returns home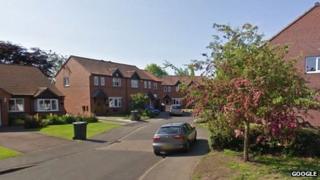 A dog breeder who had his arm amputated after being mauled by two of his own dogs has returned home.
Stephen Potts was attacked by the American bulldogs in Priors Grange, High Pittington, County Durham, last month. Witnesses described him being thrown around "like a rag doll".
His father Geoffrey Potts said his son had now returned home from hospital.
He also told BBC Tees' Neil Green the two dogs have been destroyed.
Police shot one dog at the scene while the other was put down later after initially being taken to a kennel.
'Coping well'
When asked how his son was, Mr Potts said: "He is doing fine, he came out of hospital and is recovering very well.
"He lost his right arm, he is coping very well, better than I thought he would have done.
"He's back on his feet and just seems fine."
Mr Potts also said his son is being well supported by friends and family and praised medical staff in Newcastle, while there is also the possibility of getting a prosthetic arm.
He said the family is still mystified about why the dogs attacked as his son had "brought them up as pups", the only theory being they may have been spooked by fireworks.