North East bus takeover plan agreed by combined authority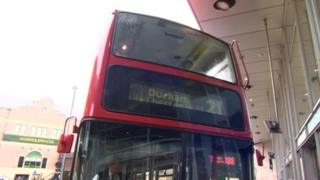 Bus services in north-east England could be taken over by local government, after councils agreed to draw up a new transport scheme.
Under the plan, councils would take control of routes and timetabling and contract services to private companies.
The North East Combined Authority (NECA), a body of councils which will devise the plan, said it would be in the interests of passengers.
But bus companies said the scheme was unaffordable.
The current system sees bus operators deciding which services to run and councils subsidising less profitable routes.
But under the proposed scheme, NECA would determine services and contract them out to bus companies for an agreed price.
'Bankrupt in 10 years'
The plan, known as a quality contract scheme (QCS), would cover services in the Tyne and Wear area, as well as those which cross into County Durham and Northumberland.
NECA said it would submit proposals to a QCS board, which would determine whether the proposal was in the public interest.
It would then be referred back to NECA to make a final decision. The aim is to have the scheme in place by April 2017, NECA said.
Nick Forbes, regional transport lead for NECA, said: "The proposal presents the best option for increasing passenger numbers, protecting important but less profitable bus routes, preserving concessionary fares and providing a clear and easier to use bus network for passengers."
Tim Dodds from Go North East said: "It's a simple fact that the local authorities simply can't afford to run this bus contract scheme. Inside 10 years this scheme will bankrupt the bus system."
The Unite union, which represents many bus workers, welcomed the move and said it could "herald a revolution" in the way services were run.