Mother wants answers over Jack Gray's asthma death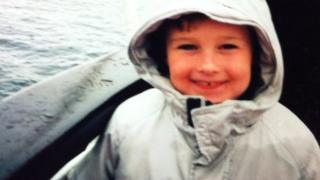 A woman whose 11-year-old son died following treatment in an ambulance for an asthma attack says she is still waiting for answers 15 months on.
Jack Gray was treated by paramedics both before and during transportation but was found to have no heartbeat on arrival at hospital, and later died.
Barbara Gray said the North East Ambulance Service (NEAS) never properly explained what happened in the vehicle.
The service said it had met her several times and shared all its information.
When Jack suffered a severe asthma attack at his home in Crawcrook on 30 June 2013, an ambulance arrived within minutes and he was treated at the scene.
His condition appeared to deteriorate and Mrs Gray said that after about 19 minutes he was taken to Newcastle's Royal Victoria Infirmary.
On arrival there was no heartbeat, and although he was resuscitated by CPR he had been without oxygen for a lengthy period and went into a coma, dying four days' later.
'Everything fine'
Mrs Gray said the family had a number of questions as to what happened in the back of the ambulance.
"About a month after his death we made a complaint", she said.
"Then in October we were told everything was fine, had been done as it should.
"But we didn't accept that and asked NEAS if we could meet the paramedic who treated Jack.
"Eventually we did, in the presence of three managers, but his account didn't tally with ours.
"Then we discovered that there was CCTV in the ambulance. No-one had told us.
"We asked for a copy so we could be assured that CPR and everything else possible took place, but after 30 days they are automatically wiped."
'Family liaison officer'
She said: "We still trying to piece together what happened.
"We've struggled to get details of meetings about Jack, we've had to struggle to meet staff to get answers for them directly.
"So much has been done which has added to our pain."
Joanne Baxter, from NEAS, said there had been a number of meetings with the family.
"We have appointed a family liaison officer and mum has met with the paramedic", she said.
"We have also shared with them all the information we have available about the care we offered."
Relating to the issue of CCTV footage, NEAS said in a statement: "The Data Protection Act prevents us from keeping video recordings from the CCTV cameras on board an ambulance for more than 30 days.
"The request to see the footage was received seven months after Jack's death, by which time the tape had been wiped.
"All of our ambulances bear signs saying CCTV cameras are in operation, and an audio message is played inside the vehicle.
"We have also publicised their use in numerous local press stories."