Freeman Hospital set for £70 parking crackdown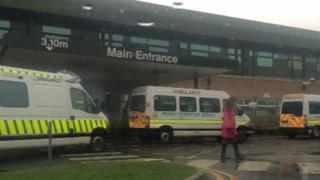 One of the North East's largest hospitals has announced plans to issue a £70 charge to "non-emergency" ambulances if they park outside for more than 20 minutes.
Bosses at Newcastle's Freeman Hospital said action was needed to reduce traffic jams outside the main entrance.
About 2,000 drop-offs are made there each day, including many by the North East Ambulance Service (NEAS).
NEAS said its patient transport service would be badly affected by such a move.
Talks to discuss the proposal were held at the hospital on Thursday.
A spokeswoman for Newcastle upon Tyne Hospitals Trust said: "In the vicinity of the Freeman Hospital's main entrance there is a 20-minute wait restriction which does not apply to emergency vehicles - ambulance, fire, police, armed forces etc.
"North East Ambulance Service staff who utilise personnel carriers and other non-urgent forms of vehicles are not excluded from the restriction, which is to achieve continuous traffic flow and safety as the overriding consideration.
"Simply to park up in restricted areas is unacceptable, hence the risk of a fine."
Although unwilling to comment on the record, a NEAS source told the BBC they "simply couldn't operate the ambulance service in this way".
They said drop-offs often took longer than 20 minutes if patients had mobility issues.
Other hospital users who would be affected by the move include members of the public, staff, commercial suppliers and taxis transporting people for "non-emergency" appointments.