South Tees Hospital Trust faces £91m cuts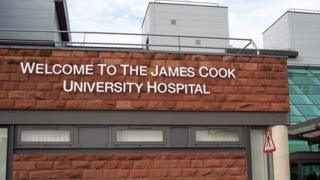 Jobs could be lost at a health trust which faces making £91m of cuts.
Bosses at South Tees Hospitals NHS Foundation Trust had thought the shortfall would be about £50m.
The trust said it did not "underestimate just how difficult it will be to make these savings" and said job losses were possible.
Health services watchdog Monitor has ordered the trust to formulate a plan to return it to a "sustainable financial position" within three years.
The savings targets are £21.9m this year, £40.1m in 2015-16 and £29m the year after, out of an annual budget of £550m.
Chief executive Tricia Hart said its problems stem partly from not making the annual savings every NHS organisation is required to achieve, leaving the trust having to "catch up".
Staff accounted for about 62% of costs and the trust had to ensure it was "working in the most efficient and effective structures as possible", she said.
Some empty posts have not been filled and other members of staff have left voluntarily. There would be consultation on any proposals to remove posts or change roles, the trust said.
The trust is also planning to ask for government help with costs at James Cook, a private finance initiative hospital, which it said were unaffordable in the long term.