Dog choked to death after 'brutal attack' at Lemington party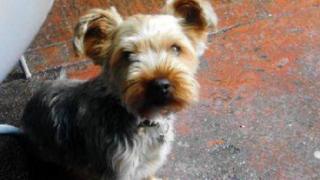 A pet dog choked to death on its tongue after a "brutal attack" by someone at an 18th birthday party.
Herbie, a four-year-old Yorkshire terrier cross, was found in the back garden of his home in Lemington, Newcastle.
The animal was being kept upstairs by its owner but managed to get downstairs and into the garden.
The RSPCA said the right side of Herbie's jaw had been twisted, pinning his tongue and causing him to choke.
Jaqui Miller, an inspector with the charity, said: "I have never seen such a brutal attack on a dog in my whole 10-year career.
"Herbie's muzzle was shattered in numerous places.
"The owner is understandably distraught and desperate for answers to what happened to her beloved pet."
Herbie was found at about 20:00 GMT on Halloween and the RSPCA is appealing for information about the attack.
Ms Miller added: "This was a truly horrendous incident which no doubt caused enormous suffering.
"He was covered in blood and the person who did this must have been too.
"I have spoken to a number of people who were at the party but I still need more specific information."