Is JB Priestley to blame for grim up north stereotype?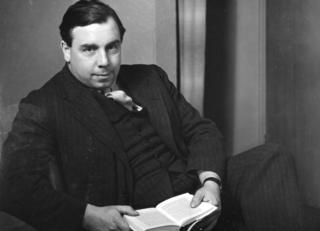 In the autumn of 1933, the author and playwright JB Priestley went on a tour of England. His subsequent book, English Journey, is widely blamed for creating the "grim up north" stereotype, but just how much was he to blame for damaging the region's reputation?
When JB Priestley reached Tyneside, he was already in a foul mood.
Clogged with a cold, dosed up on a daze-inducing medicine and tired of travelling, the 39-year-old openly admitted he just wanted to go home.
Add into that a region awash with November rain and a city which held few happy memories for the former soldier, who was sent to Newcastle to recover after World War One, and you can start to see why the writer may have been disgruntled.
So were his subsequent writings the skewed observations of an already embittered man, the accurate analysis of a critical commentator, or a cynical ploy to sell books on the back of outrage?
Published in March 1934, English Journey, Being a Rambling but Truthful Account of What One Man Saw and Heard and Felt and Thought During a Journey Through England During the Autumn of the Year 1933, was less than complimentary about the Tyne to Tees territory.
For a start, Priestley detested the accent, accusing it of being a "most barbarous, monotonous and irritating twang".
While Newcastle had a "sombre dignity" and "more impressive buildings than one would expect", Gateshead was a town "carefully planned by an enemy of the human race".
But it was when he walked eastwards along the Tyne, past the closed shipyards and idle industry, that he came up with some of his more colourful criticisms.
The "slatternly" women he saw were "standing at the doors of wretched little houses gossiping with other slatterns or screeching for their small children playing among the filth".
The Geordies were "stocky toothless fellows cursing in their uncouth accent" but would do a "grand job of work" if given the chance.
Jarrow suffered from a "thick air heavy with enforced idleness, poverty and misery" and seemed as if it had "deeply offended some celestial emperor and was now being punished".
Who was JB Priestley?
Born September 13, 1894, in the West Riding of Yorkshire, the son of a schoolmaster
Determined to be a writer from a young age spending money earned in a wool shop on books
Volunteered for the army in 1914 and spent five years serving in England and France
Started writing books, his first notable work being Brief Diversions, before moving into theatre
Plays included Dangerous Corner, When We Are Married and An Inspector Calls
In 1933, publisher Victor Gollancz, who later sent George Orwell on a similar venture, sent Priestley on a tour of England, English Journey was the result
Also worked as a broadcaster as well as continuing to write fiction, non-fiction and plays
The Grand Old Man of English Letters died on August 14, 1984
Hebburn was running numerous education courses to enrich the lives of its residents, Priestley notes, but he still sums it up by saying: "You felt there was nothing in the place worth a five pound note".
But he did not dislike the region, according to media historian Chris Phipps, but rather lamented the way it had been left to rot through the destruction of its trades and industries.
He said Priestley's England had three distinct characters - the twee tourist country of the Cotswolds, the former Victorian industry of the north, and the new wave of consumerism evidenced by glass fronted factories in the south.
And his villain was London, the financial capital that made monetary decisions often to the detriment of the lives of the working people.
Mr Phipps, who is giving a talk on English Journey at Newcastle's Literary and Philosophical Society on Saturday, said: "He was incensed by what he found in the North East, he did not dislike the area but he was angered that so much money had been made but never spent here.
"People said he was unnecessarily vindictive but he was pretty accurate.
"He did use poetic licence and he was a bit patronising but there are moments he is very self-effacing, when he sits down with people who have been out of work he says they make him feel like a fat rich man."
Priestley's English Journey shone the spotlight on to the problems in the North East, but Mr Phipps said it could not be single-handedly blamed for painting the region as "grim".
He said: "It's a very complicated issue, I don't know where the image came from to start with but certainly after English Journey, many filmmakers and photographers came to the region to document it for themselves."
Priestley's fury at the way the region was left to suffer by the loss of industry deepened as he travelled south into County Durham, the pit village of Shotton sparking disgusted disbelief.
"Imagine a village consisting of a few shops, a public house, clutter of dirty little houses all at the base of what looked like an active volcano, the notorious Shotton tip, a man-made smoking hill," he wrote.
"The atmosphere was thickened with ashes and sulphuric fumes like that of Pompeii, the whole village and everybody in it was buried in this thick reek."
Mr Phipps said: "He saw these people needing support, what he was talking was a precursor to the welfare state that Britain later introduced."
The book was well publicised at the time, and the reaction was not happy in the north.
Middlesbrough, which Priestley described as a "dismal town even with the beer and football", was fuming, the mayor and local paper calling the work "the height of impudence".
Outraged readers of the Northern Echo advised the playwright return when he was in better health while folk in Jarrow labelled him a "prophet of evil".
Alison Cullingford, who runs the JB Priestley Archive at the University of Bradford Library, said he wanted to provoke a reaction.
She said: "JB Priestley was writing this book to provoke, partly because he's a professional author, he needed to sell books and you don't sell books by saying 'isn't it lovely', but also he was saying things he genuinely felt.
"The industrial decline had been incredibly cruel to the individuals who were leading these poor and miserable lives and he wanted to use his huge celebrity to help.
"He was partly being provocative because he liked winding people up and selling books and partly because he wanted to provoke thought, change and for society to become fairer."
But ultimately, was he not just a man with a bad cold in a bad mood having a bad time a long way from home?
Ms Cullingford said: "He had a really epic cold and was taking a very powerful cold cure, the kind that makes you feel a bit woozy and things take on a dream like quality.
"That comes across in his writing about the North East, there is a grotesquery that reflects his own spirits.
"And he was also missing home, travelling soon loses it allure when you do a lot of it, he was keen to get it over with.
"He was not in a good mood, unfortunately for the North East."