'Spider' bite victim Nicky Thornley hospitalised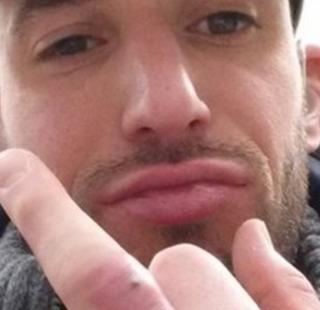 A man who suffered a suspected spider bite while walking his dog spent days on an antibiotic drip and says he was told he could have lost a limb.
Nicky Thornley, 33, of Jesmond, Newcastle, said his hand swelled up after the suspected bite on a finger.
He spent five days in Newcastle's Royal Victoria Infirmary and was told that he had probably been bitten by a false widow spider.
He needed surgery to reduce the infection in his middle finger.
Mr Thornley has issued photos of his damaged hand and has warned anyone suffering from an infected bite to seek urgent medical attention.
He said: "I thought I'd been bitten, expecting it was a normal fly bite and just put some cream on it.
"But within three days it wasn't getting any better and my hand was swelling up and throbbing constantly.
"I was forced to go to A&E in the middle of the night. I was in shock. I almost passed out.
"I then had an operation on my left finger to clean and scrub the infection and poison away."
Mr Thornley put up a poster of Spiderman bedside his hospital bed.
False widow spiders are Britain's most venemous spider and they are becoming more common.
But being bitten by one is rare, according to the Natural History Museum, London.
Stuart Hine, from the museum, said a spider bite was a possibility but not the only scenario, although other biting invertebrates were uncommon at this time of year.
He said: "It always troubles me if no spider was caught in the act and hence other incidents may be the root cause - such as thorns of brambles, trees and even splinters.
"Anything that pierces the skin has the propensity to infect the area with bacterial infection.
"Also once the skin is compromised by a cut or wound it is equally at risk from infection."
He said there were six species of false widow spider in the UK with the species reliably implicated in bites Steatoda nobilis.
He said that species was not strongly established in the North East and so it was less likely, but not impossible.
•It is Britain's most venomous spider, although there are no reported deaths from its bite in the UK
•The spider has distinctive cream markings on its bulbous body and is brown with reddish-orangey legs
• It is believed the false widow arrived in crates of fruit from the Canary Islands in the late 19th Century, with the first reported sighting in Torquay in 1879
•The UK has about 650 species of spider and of these only about a dozen are capable of biting humans
Source: Natural History Museum
Mr Thornley said: "Apparently my blood was so bad with infection, it was getting stickier and preventing circulation and this can lead to amputation of a limb or be fatal."
Mr Thornley, who was bitten in Ponteland two weeks ago, has been told his finger will heal.
He added: "If anyone thinks they have been bitten then seek urgent medical attention if there is swelling. Do not ignore."